First Flush System Installed for Moreton Bay Council Works Depot in Petrie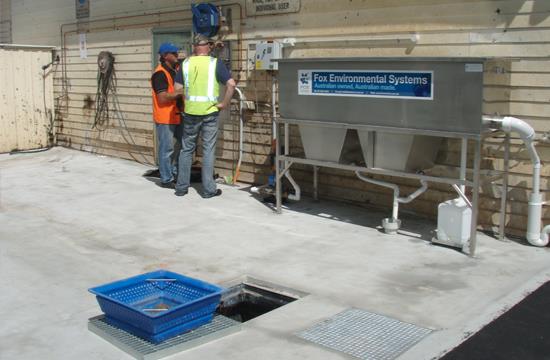 Our Fox First Flush Diversion System works well, there are a lot of different users on our wash area so our site is always dirty. The Fox First Flush System automatically takes the first flush of dirty water to treatment when it rains. We could not use a roof as some of our equipment is too big, the Fox FF600 Diversion System is perfect for the job.
The Task
The Moreton Bay Regional Council Depot at Petrie had an old unroofed wash bay that needed upgrading. They had limited room to work with. The following need to be taken into consideration during wash bay design:
Unroofed wash bay pad
2 wash bays
Washing heavy earth moving equipment
Washing street cleaners
Use of harvested water for washing
Automated diversion system
New oil water separator
The Plan
Victor Cross from Chilton Woodward & Associated in Brisbane and David Dickson from Fox met on site to discuss the Council requirements and come up with a solution including the new slab design.
The Solution
Fox Custom First Flush (FF600BRT) Diversion System with a Fox FX6000 Oil Solids Separator.
This fully automated first flush system included:
Custom FF600BRT (First Flush) diversion system that diverts the wash water to treatment and automatically takes a "first flush" off the wash area in the event of rain. Preventing any contaminants left on the wash pad from contaminating the stormwater.
A Fox FX600 Oil Separator System. Cleaning the waste water to a level acceptable to discharge to town sewer.
For certified first flush and other washdown systems, contact Fox Enviro.